Gerberas (R3)
The gerbera daisy is another flower that comes in hundreds of different colour combinations. No matter what colours of yarn you have lying around there's probably a gerbera to match, so go wild!
A printable version of this pattern is available.
You will need:
double knit in green and 3 x flower colours
covered wire
gummed tape
toy stuffing
4 x double ended knitting needles (2.75mm)
crochet hook (2.75mm)
tapestry needle
scissors
wire cutters
Pattern:
(A list of abbreviations is available.)
Petals
Using the colour you have chosen for you petals tie a slip knot and place it on the crochet hook.
Cast on 11sts using bind-off cast-on method (aka crochet cast-on or crochet picot cast-on)
k8, yfwd, sl1, turn
yfwd, sl1, p7, turn
k5, yfwd, sl1, turn
yfwd, sl1, p6
cast off 10sts
transfer the final stitch to a crochet hook
Repeat the bullet points until there are 32 petals then cut the yarn and thread it through the remaining stitch.
Centre
The centre of the flower has an outer colour (OC) and an inner colour (IC).
Cast on 24sts in OC and join into the round.
Round 1:

k –

Round 2:

[k2togtbl, k1] x 8 (16)
Change to IC.
Round 3:

p –

Round 4:

k –

Round 5:

[k2togtbl, k2] x 4 (12)

Round 6:

[k1, k2togtbl] x 4 (8)
Thread yarn through remaining sts and pull tight.
Stalk
Cast on 5sts in green and I-cord between 16 and 20cm.
Separate the 5 stitches onto 3 needles.
Round 1:

kfb x 5 (10)

Round 2:

k –

Round 3:

[kfb, k1] x 5 (15)

Rounds 4-5:

k –
Cast on 2 sts then cast off 3. Repeat until no stitches remain.
Making Up:
The diagram to the below shows the reverse side of the flower's centre. Sew one petal to each of the 16sts at the colour change boundary.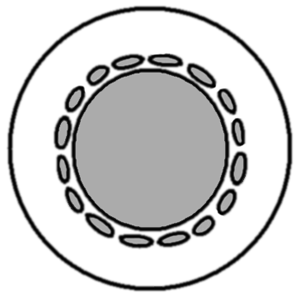 This leaves a further 16 petals unattached. Sew these to the centre in a second layer of petals on top of the first.
Cut a piece of wire the same length as the stem and cover each end with the gummed tape. Insert this into the i-cord stem. Attach the cast-off end of the stalk to the back of the petals inserting a little toy stuffing to keep the join firm.
Sew in any remaining loose ends.
Notes:
Needle/Yarn Size
As with most ODDknit patterns the yarn and needle sizes in the "you will need" section are just a guide. Feel free to improvise with whatever needles and yarn you have lying around - that's half the fun!
© 2011 All desgins and images are copyright of ODDknit. If you enjoy the content of this website, please consider buying me a coffee at the link below.